Our Picks for Link Tree Solutions & How Tos
The Standard- Linktr.ee
Description:  When people say "Link tree" this is the one they usually refer to.  Very easy to work with, and has all the basics you need.  
Free vs Paid: 
Free- All the basics that help your audience discover your most important content;  Link to as many places as you need with unlimited links; Customize your Linktree from a selection of built-in themes; Embed video content and more directly into your Linktree; Collect payments for tips, donations and services from your audience;  Track how many total views and clicks your Linktree has generated over its lifetime
Paid- PRO $6/month;  All the benefits of free PLUS ENHANCED features to help you connect your online identity.  Advanced Customizations and Premium themes
Powerful integrations; Link Scheduling, Priority Links, and Leap Link functionality; Seamlessly collect emails and phone numbers from your audience.  Track which countries, cities, and channels are driving traffic to help measure performance.  
How-To on how to get started/Support :  Excellent Tutorial by Link Tree to get started. Support?  We love the tutorials in the HELP Section. 
Contact in Bio
Description:  We like Contact in Bio over Linktree just because of the Email button.  It might seem silly but we liked having this button up top, where the free version of link tree- only allows you to have all social/email buttons up top together or on bottom together: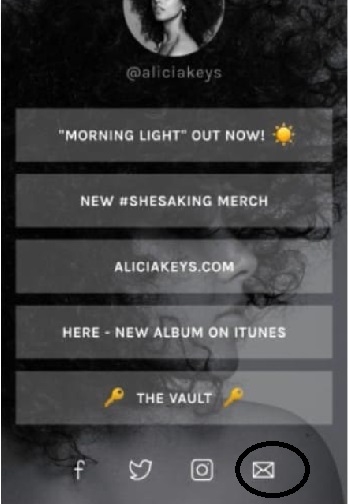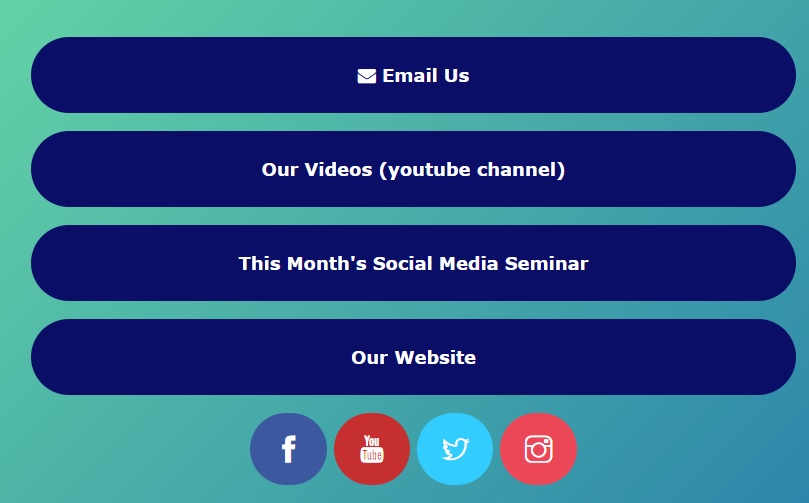 May not be a huge deal for people about having a bigger "email button" but linktree's buttons only have https:// links, you cannot have a mailto: link in "linktree".  
For our "contact in bio" link tree, we were able to have a top button that is a mailto: link. 
Free vs Paid: 
Free- Your Custom Profile/Bio Url;  Import Your Links From Linktree; Custom Links; Social Media Buttons
Whatsapp Button; Contact Form; Music Services
Fonts Selection; Custom Text; 7 Free Themes
Complete customization of your text,links and buttons colors styles.; Link Clicks Tracking; See a day-by-day breakdown of your link clicks; Page Visitors Analytics
Paid- $4.55/month
Includes: Everything in Free; 1 Account; Manage Multiple Accounts; Facebook Pixel Integration; Email Sign up and Collection; Mailchimp Integration; Update Twitter Card Description; Link Thumbnails; Update page title and favicon; Customized Page Design and Colors; Change Favicon & Apple touch icon; Removing ContactInBio Branding; Video Uploading; Image Uploading; Carousel of Images
More plans – see their link here for all pricing.  
How-To on how to get started/Support : Their video tutorial is half hour long, and it definitely is a bit more involved, and not as straight forward as linktr.ee's Here is the link for the help section to get started. Also the video they reference as their tutorial is below: 
Beacons.ai
Description:  Full disclosure, have not played with this one at all, but it is extremely powerful from what I've seen some of the leading "influencers" in digital marketing started adopting it.  We have our own link tree that we manage through our website which we prefer, but this would be on the top of our list! Check out the gallery of beacons for some inspiration from their site. Such a clean look, and love the creativity from these creators.  
Free vs Paid: 
Free- Monetize your profile using shoppable TikTok feed links, sell digital products, accept donations without a Beacons transactions fee (there is a transaction fee from your payment provider), add unlimited links, add social media links and friend profiles, embed music and videos (do this automatically for YouTube videos and Tweets), analytics, basic customizable themes (including buttons and fonts). Creators also get 2 tabs, an email and SMS collector, sensitive content warnings, email support.
Paid- $10/month
Includes: Everything in Free; $10/mo: All the above plus: removal of Beacons' logo, the option to use a custom domain (yourdomain.com), premium support, team access. You also get better analytics capabilities in the form of the Facebook pixel, Google Analytics, and UTM parameters. Get to add custom meta to help with SEO, and additional blocks, a free SSL certificate, and 5 tabs.

Want to get a thorough review?  We loved this one here! (from influencer marketing hub)
How-To on how to get started/Support : Ok their AI was awesome, and it was very easy to get setup; Below are the 2 videos that get you started: 
How to Sign Up for Beacons.ai  
How to Modify your Page on Beacons after Setup. 
Link Trees – Which one do you use? 
Link trees are great and of these 3 I would probably recommend Linktr.ee for people who are just getting started, because it is pretty intuitive.  Contactinbio we have an account but it isn't the friendliest interface, but we did pick it at the time for the "email button" which was important to us. Beacons.ai would be the next one we would test, it looks clean and intuitive.  There are plenty of others out there too, shorby, lnk.bio, and linkin.bio (from LATER one of the cool instagram scheduling apps).  
So if you are using a link tree, do you like it? Let us know in the comments.